LED's create: the invention of light printing
We do not know what the future looks like - until we shape it. With the innovative LED's create technology we have developed a process that makes every product and every spatial staging possible - through light printing.
Light, independent of spatial conditions and standardised products. Light, infinitely customisable, free in form and material and with fascinating effects. Light, in the ultimate application of the future. Since 2015, we have been working on turning our vision into reality. The result? A radically new understanding of light: Unique. Digital. Scalable.
Imagine a process that enhances every product and every spatial presentation. Unique in its effect, immediately differentiating and also producible in series. A process that transcends industry boundaries and enables the most diverse applications. That's LED's create.
Our patented light printing process is suitable for both decorative accent lighting (SparkLeds) and the production of functional lights (SparkShapes). Shape, material and lighting effect can be freely defined. Through the novel combination of creative potential and series production 4.0 we enable a entirely new dimension of lighting planning and design.
Similar to the invention of letterpress printing, light printing is a revolutionary development compared to conventional light planning and design.
"Gutenberg invented letterpress - we invented light printing!"
The core idea of the process is the automated placement of individual LEDs based on a given design template. The individual graphic motif can thereby be printed on various materials. A robotics system developed by our engineering team takes over the consecutive work steps:
first, the area of up to 2x4 m is analysed and the use of space is optimized.
the positions of the LEDs are determined according to a design template and the corresponding holes are drilled. The LEDs and drivers as well as optional further control elements are placed on the material. The installation height is usually no more than 0.6 millimetres.
for functional lighting applications, the LEDs can be supplemented with optics for light guidance and glare control.
using proprietary algorithms the LEDs are connected to form the electronic circuitry and enable the desired functionality.
the defined shape is cut out and the application can shine.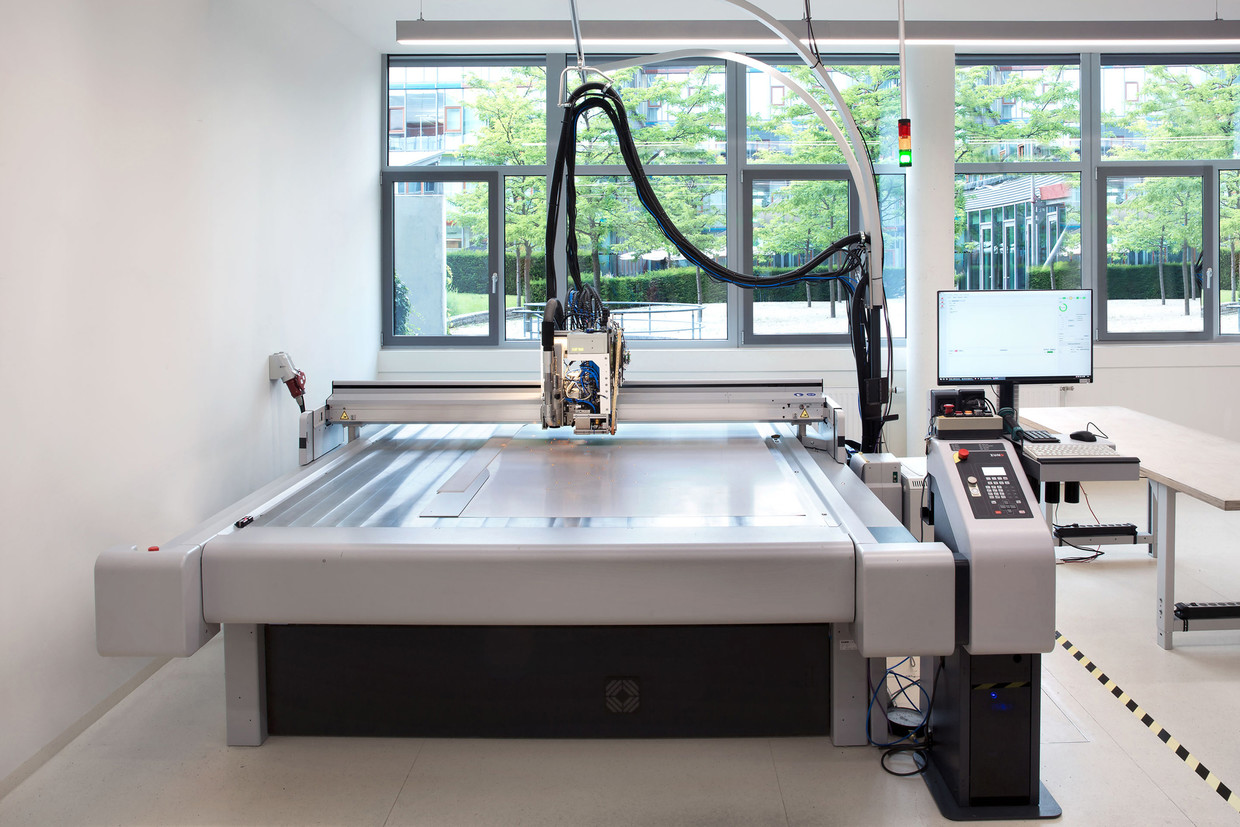 How does light printing work exactly?

For the first time in the lighting industry LED's create technology fully exploits the advantages of Industry 4.0. No other solution on the market allows individualisation on so many levels:
Free design
There are no limits to your creativity when arranging the light points. With the design concept you decide on the effect and function of your application. Whether sculptural or subtle, geometric or organic, as a recognisable pattern or freely distributed - any two-dimensional form made up of individual light points is possible.
Numerous materials
Choose from a wide range of carrier materials and surfaces. Light printing is suitable for Plexiglas, Alu-Dibond, Alu-Cobond, veneers or even flexible materials such as plastics or paper. Thanks to the low installation height and flexible wiring even curved shapes are feasible.
Individual lighting effect
Luminosity, light color, glare reduction or the ratio of direct to indirect light - all aspects of the lighting effect can be individually designed. With their high brilliance the small light points outshine all expectations.
Control & Interaction
From Human Centric Lighting to staging by means of lighting programmes, control via WLAN or interactive behaviour such as gesture control and movement behaviour - modern sensor technology brings your application to life.

Automation / Integration
The automation of the process allows for cost-efficient production even at small quantities and for short time to market. The ready-to-install applications are produced according to your specifications and can be easily integrated into objects, rooms and products of any kind.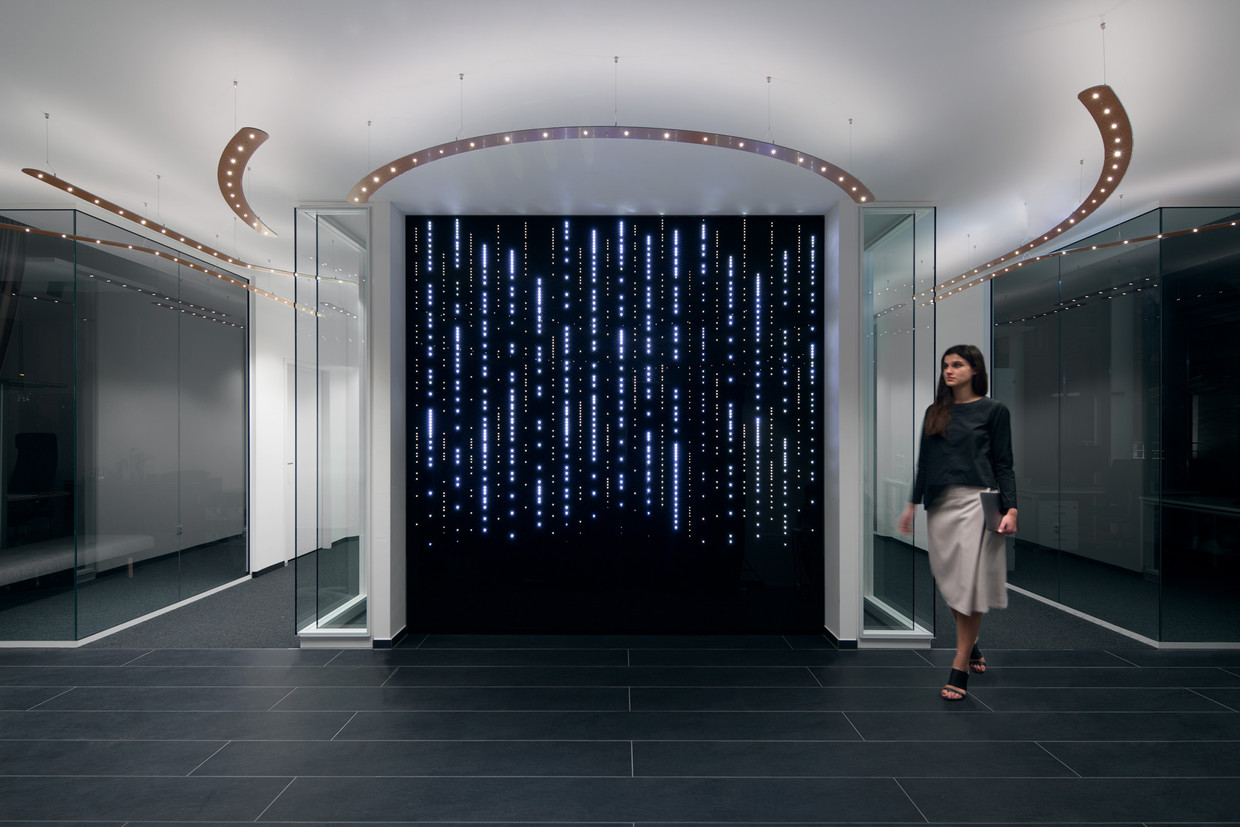 The new dimension of light
From candle to light bulb to fluorescent tube and halogen lamp to modern LED: light is constantly evolving. And we are proud to have opened another dimension of light with light printing.
Through the combination of sensor technology, intelligent software and miniaturization we enable applications that expand our understanding of light and give it new layers of meaning. Thanks to modern digital technology we are now at the beginning of a new era and face more creative freedom than ever before. Light is being used as the leading medium for interaction and brand experiences in all industries - for spatial staging or directly on the product. Our LED's create technology is an expression of this understanding and SparkLeds and SparkShapes are the first applications worldwide.
In 2016 we implemented a lighting concept with our "Liquid Lighting Showroom", which translates the movement behaviour in our offices into a functional lighting concept that hasn't lost any of its identity-forming effect today.
In 2018 with the installation "Disruptive Lighting" and the introduction of the light edge we launched a highlight that transcends the boundaries between accent and functional applications and reflects the potential for use in buildings and architecture.
A lot has changed since our first light printing in 2015. But our most important value "Fascination for light" still determines the most diverse customer applications and all technological developments today. We will continue setting highlights in the future.
Lighting the digital age.