Acoustic panel with integrated LED lighting for Lindner
Munich, 01.09.2020
From our cooperation with the Lindner Group, the first jointly developed series product, the acoustic panel "Comp+ acoustic shine", is now available.
LEDs are integrated directly into the acoustic panels developed by Lindner and Ambright using the patented process of light printing. The result is ready-to-install, individually designable lightweight panels that combine the following functions in closed ceilings or as suspended ceiling sails:
Improved room acoustics thanks to micro-perforated panel surface
individual LED arrangement as direct room lighting by means of downward-directed, glare-free LEDs or
indirect lighting via the existing room ceiling with LEDs directed upwards
good fire protection properties
organic or rectangular shapes
various designs and surfaces, e.g. lacquered, veneered or with motif printing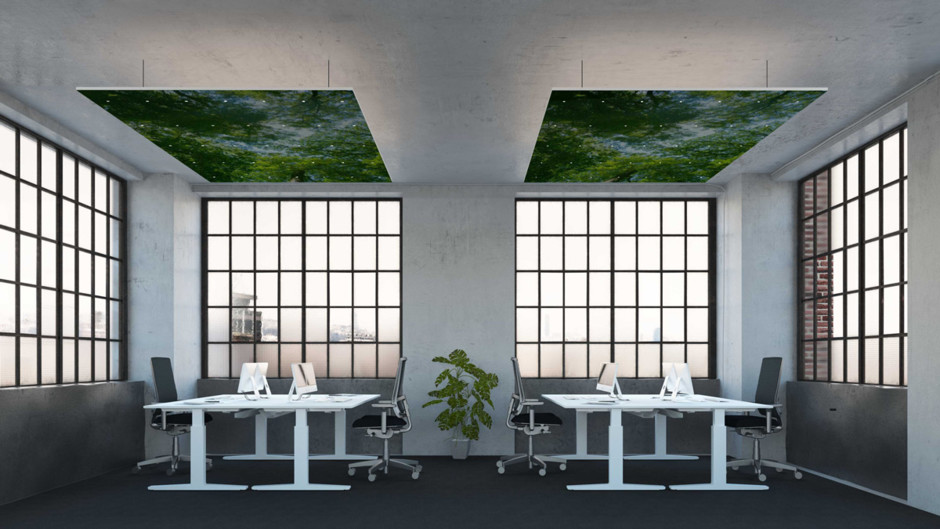 The panels are assembled in Lindner's own production facilities and delivered ready for installation. In addition to the sound-absorbing function, great importance was attached to ease of installation, stability and individuality in the development of the Comp+ composite panels. Ambright, as a specialist for high-quality LED lighting, guarantees first-class optical properties, including a color rendering index (CRI) of > 95 and glare control for outstanding lighting quality.